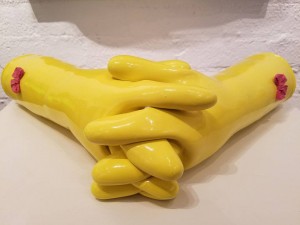 A toy gun and an old computer mouse sit on a shelf, their plastic shells encased in salmon-pink latex. At least that's what one can assume they were before artist Chris Bauder transformed them into aesthetically glutinous pieces for his latest exhibit, Strange Glove.
The mouse, titled "Backlash," now resembles a dominatrix's whip, and the gun, named "Old Dog," feels oddly sexual, too. Whether it's the bright flesh-toned hues or the slimy sheen of stretched latex, these viscid sculptures explore the intimacy and familiarity in the erotic, taboo and unknown.
Bauder has typically used latex house paint three-dimensionally in his work, but in Strange Glove, the Las Vegas-based artist pushes the boundaries of his manipulations even further. "I've always been a fan of making work that people want to touch that people aren't allowed to," Bauder says. The result is an innate curiosity and desire to reach out and feel the whimsical and bizarre pieces on display.
Bauder says he used these found objects to create a series of weapons that ignite a conversation about sex and violence, turn-ons and turn-offs. "The nature of the work is naturally erotic," Bauder says. "It's latex, it's slick, it's shiny, it's sexy. It references taboo and domination. Since I'm showing at Sin City, I was given a little more leeway, so I thought I'd cross that line a little bit more. But it's not about beating you in the head with eroticism."
As in past works "Blossoms" and "Study of Navels"—from 2012's Lush—Bauder uses pink latex paint to craft sexually-charged sculptures that resemble vaginas and nipples in "Pink Parts." In "Untitled (Green Orb I)" and "Untitled (Green Orb II)," Bauder uses more latex paint, balloons and an LED lighting display to create neon green spheres that glow like two extraterrestrial sacs straight out of Alien. > Read More