Neon Museum visitors can now view a new mural from acclaimed Las Vegas artist James Stanford.
Across the street from the Neon Boneyard, the 154-foot mural entitled "From the Land Beyond Beyond," spans the south wall of the Museum's newly acquired Reed Whipple building.
Throughout his career, James Stanford has incorporated Las Vegas' landmarks and symbols into his multi-faceted work. "Shimmering Zen," a limited edition publication launched at The Neon Museum in 2018, features his manipulated digital photographs of vintage Las Vegas neon signs and architectural elements from the 1950s and '60s.
The following year he completed "A Phalanx of Angels Ascending" on a building near the Museum. This mural commemorates the iconic Blue Angel statue that watched over downtown Las Vegas for six decades from the Blue Angel Motel at Fremont St. and Charleston Blvd. Restored by the City of Las Vegas, the statue is now installed near its original location.
Stanford's latest mural design also pays homage to early Las Vegas landmarks starting with the Stardust Resort & Casino which was imploded in 2007. The artwork includes two large Moai carved from lava rock which pay tribute to the Stardust's Aku Aku Polynesian restaurant and Tiki Bar. He also depicts the Dunes' Sultan from the famed hotel and casino which closed in 1993 making way for the Bellagio, which opened in 1998. (You can learn more about the Moai statues in our blog post "Lost and Found.")…Read More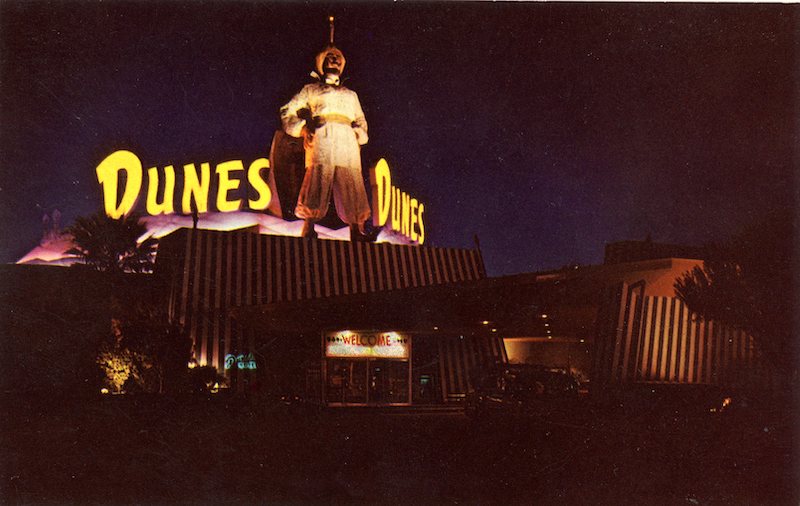 Dunes Hotel and Casino postcard showcasing the fiberglass Dunes Sultan, ca. 1960. Anthony Bondi Collection, The Neon Museum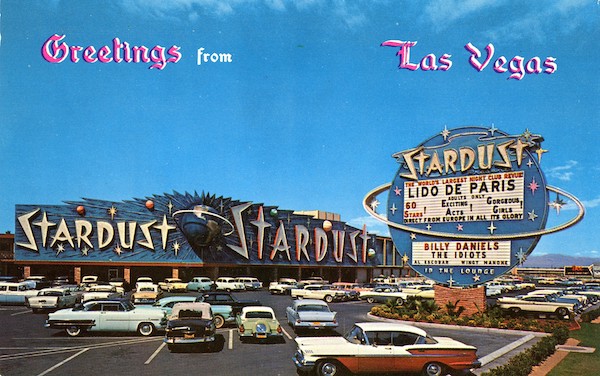 Stardust Hotel and Casino Postcard, ca. 1960. Anthony Bondi Collection, The Neon Museum