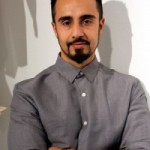 Las Vegas-based Iranian artists Ali Fathollahi and Nanda Sharifpour landed in Istanbul, Turkey, the day before the terrorist attacks at Ataturk Airport this summer, finding themselves once again in a heightened political landscape where violence shakes and defines reality.
As jarring as it was, it was familiar terrain for Fathollahi, who'd spent six months of his childhood living in an underground shelter in Tehran with his sister and parents, attempting to survive Saddam Hussein's missile attacks during the Iran-Iraq war, an experience that plays out in his solo exhibit, Adolescence, on view through September 24 at Sin City Gallery.
Here, Fathollahi's memories and nightmares are told in narratives packaged in surrealist assemblages and collage works, and overt symbolism lives in every piece.
Born in 1979, the year of the Iranian Revolution, Fathollahi lived through Iran's eight-year war with Iraq. Adolescence is the artist's boyhood story, in which hiding in a 10-foot by 8-foot underground room — the size of a small bedroom — reveals all, even the forbidden. Especially in a religious country where so much is taboo, including the sight of his mother's undergarments hung on the wall to dry.    > Read More>